Regular price
$119.90 USD
Sale price
$39.99 USD
Unit price
per
Sale
Sold out
Unveiling Elegance: The ShineOn Love Knot Necklace
When it comes to jewelry, a few pieces symbolize love, unity, and timeless beauty quite like the ShineOn Love Knot Necklace. Crafted with precision and adorned with a meaningful design, this exquisite necklace has captured the hearts of many, serving as both a fashion statement and a cherished keepsake. In this comprehensive guide, we will explore the allure of the ShineOn Love Knot Necklace, unravel its symbolism, delve into its craftsmanship, and unveil why it stands out as a remarkable piece in the world of jewelry.
The Captivating Design: A Knot of Love and Unity
At first glance, the ShineOn Love Knot Necklace captivates with its elegant design. A delicate and intricately woven knot forms the centerpiece of this necklace, representing the enduring bonds of love, unity, and connection. The symmetrical loops of the knot convey a sense of harmony and balance, making it a visually appealing and meaningful adornment.
Symbolism of the Love Knot
The love knot, also known as the lover's knot or eternity knot, has a rich history dating back centuries. Its symbolism varies across cultures and time periods, but at its core, it represents:
Eternal Love: The knot's endless loops signify love that knows no bounds, endures through time, and remains unbroken.

Unity: The intertwined strands embody the coming together of two individuals, whether in marriage, friendship, or family bonds.

Harmony: The balanced and harmonious design reflects the idea of a harmonious and balanced relationship.

Commitment: Love knots have often been exchanged as tokens of commitment and fidelity.
In the ShineOn Love Knot Necklace, these timeless meanings are encapsulated in a modern and elegant piece of jewelry, allowing the wearer to carry the symbolism of love, unity, and commitment with them wherever they go.
Quality Craftsmanship: A Shimmering Masterpiece
The ShineOn Love Knot Necklace is not just a symbol of love; it's a testament to craftsmanship and quality. Each necklace is meticulously crafted with attention to detail, ensuring that it meets the highest standards of excellence. Here's what sets the ShineOn Love Knot Necklace apart:
Premium Materials: ShineOn uses premium materials such as 18k gold finish, 316 surgical steel, and shatterproof liquid glass to create a necklace that not only looks exquisite but also stands the test of time.

Customization Options: Personalization is key when it comes to meaningful jewelry. ShineOn offers the option to engrave names, initials, or special dates on the back of the pendant, adding a unique and personal touch to each necklace.

Adjustable Chain Length: The necklace features an adjustable chain (18"-22"), allowing the wearer to find the perfect fit and style that suits them best.

Handcrafted in the USA: ShineOn takes pride in handcrafting each necklace in the United States, ensuring quality control and supporting local artisans.

ShineOn's Guarantee: The ShineOn Love Knot Necklace is backed by a satisfaction guarantee, assuring customers of its quality and durability.
Meaningful Gifting: Perfect for All Occasions
The ShineOn Love Knot Necklace is not just a beautiful piece of jewelry; it's a versatile gift suitable for various occasions and relationships. Here are some instances where it makes for an ideal gift:
Anniversaries: Celebrate your love and commitment on your anniversary with this symbolic necklace.

Weddings: A perfect gift for bridesmaids, the Love Knot Necklace symbolizes unity and support in the wedding party.

Birthdays: Surprise your loved ones with a meaningful and stylish gift on their special day.

Mother's Day: Express your appreciation for your mother's unwavering love and support with this heartfelt necklace.

Graduations: Celebrate academic achievements and new beginnings with a gift that symbolizes the enduring bonds of friendship and family.

Friendship: Show your friends how much they mean to you by gifting them a symbol of your lasting friendship.

Valentine's Day: On the day of love, the Love Knot Necklace is a meaningful way to express your affection and commitment.

Family Reunions: Commemorate family gatherings with a token of unity and love.
Caring for Your Love Knot Necklace
To keep your ShineOn Love Knot Necklace looking its best, follow these care guidelines:
Cleaning: Gently clean your necklace with a soft cloth to remove any dirt or oils that may accumulate from daily wear.

Storage: Store your necklace in a cool, dry place to prevent tarnishing and keep it looking radiant.

Avoid Chemicals: Avoid exposing your necklace to harsh chemicals, perfumes, and cleaning agents, as these can damage the finish and stones.

Remove Before Activities: It's a good practice to remove your necklace before engaging in activities that may expose it to excessive wear or impact.
ShineOn's Commitment to Quality and Customer Satisfaction
ShineOn takes immense pride in its commitment to quality and customer satisfaction. The ShineOn Love Knot Necklace is a testament to this dedication, combining timeless symbolism with top-notch craftsmanship. With ShineOn's satisfaction guarantee, you can rest assured that your purchase is backed by a company that stands by its products.
Conclusion: A Timeless Symbol of Love and Unity
In the world of jewelry, the ShineOn Love Knot Necklace stands out as a shimmering testament to love, unity, and quality craftsmanship. Its elegant design, rich symbolism, and customization options make it a versatile and meaningful gift for various occasions and relationships. Whether you're expressing your love to a partner, celebrating a cherished friendship, or honoring the bond with your mother, this necklace serves as a timeless reminder of the enduring connections that enrich our lives. Elegance, symbolism, and craftsmanship come together in the ShineOn Love Knot Necklace, making it a cherished addition to any jewelry collection. So, surprise your loved ones with the gift of love and unity, embodied in the ShineOn Love Knot Necklace.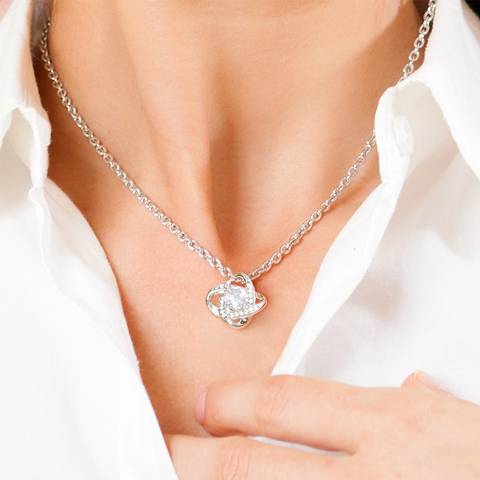 Imagine her reaction to receiving this beautiful Love Knot Necklace. Representing an unbreakable bond between two souls, this piece features a beautiful pendant embellished with premium cubic zirconia crystals. Surprise your loved one with this gorgeous gift today!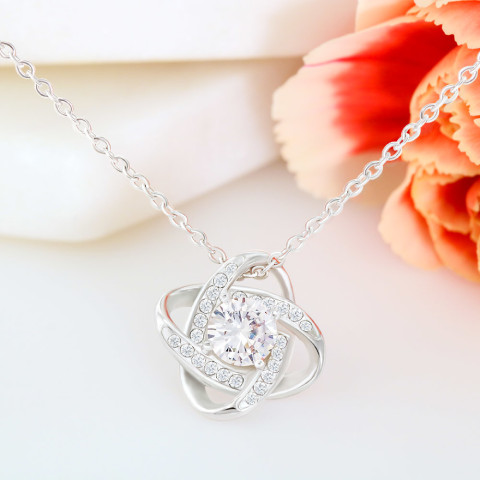 14k white gold over stainless steel or 18k yellow gold over stainless steel
6mm round cut cubic zirconia stone
Pendant dimensions: 0.6" (15.7mm) height / 0.23" (6mm) width
Adjustable chain length: 18" - 22" (45.72cm - 55.88cm)
Lobster clasp attachment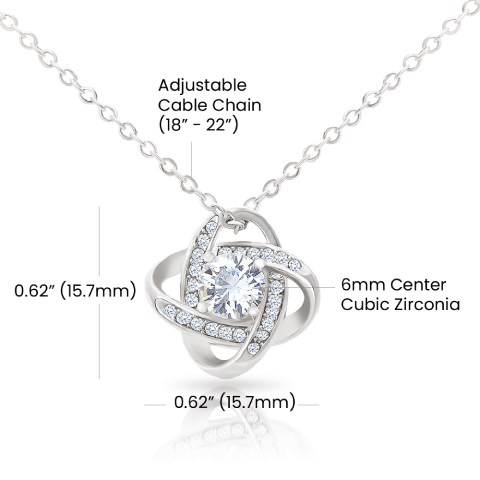 Your piece is lovingly packaged in a complimentary soft touch box for easy gifting. Elevate your presentation by upgrading to the mahogany-style luxury box, which features a brilliant LED spotlight.
View full details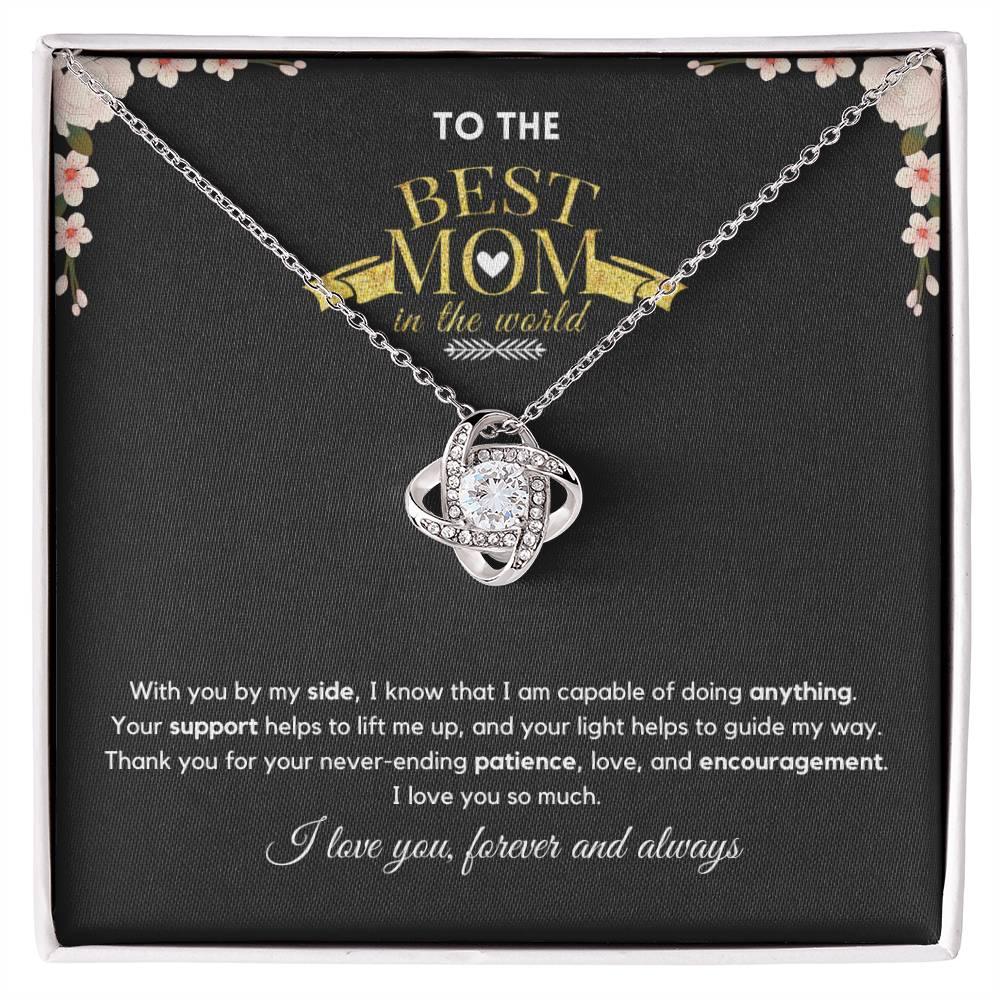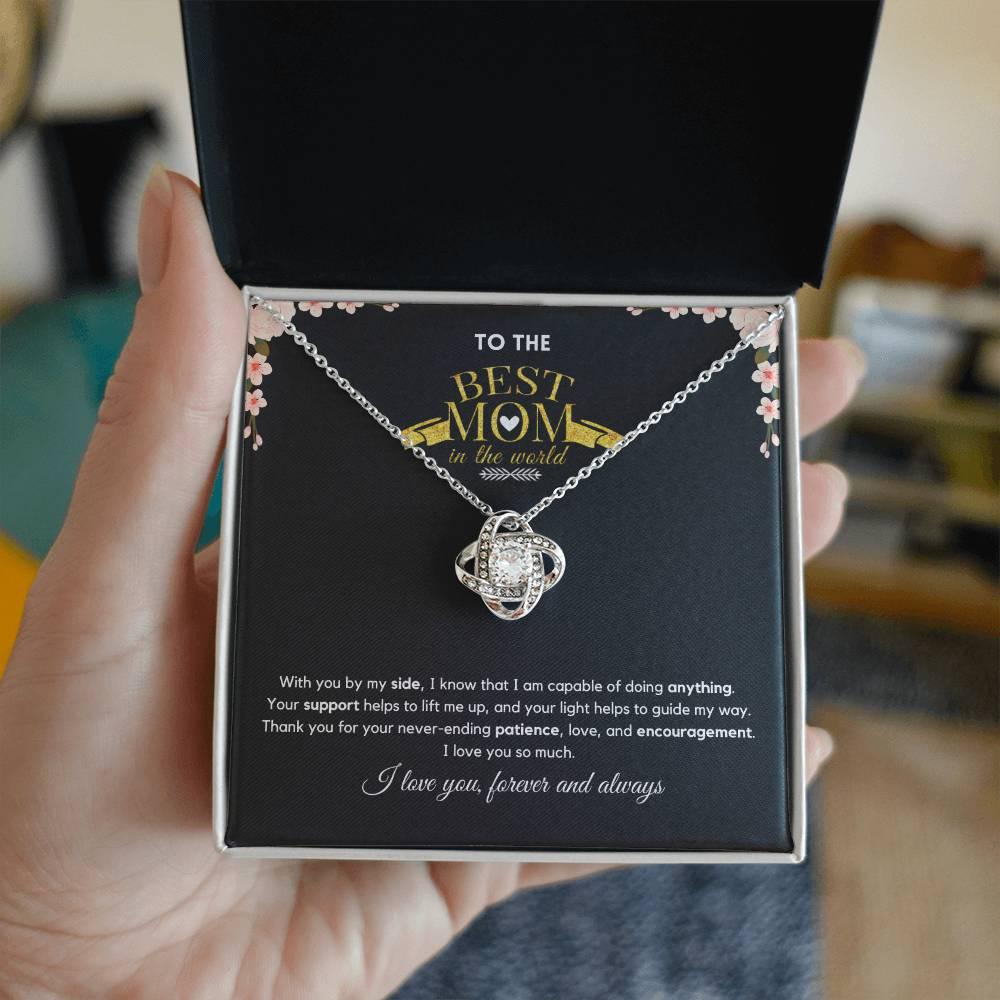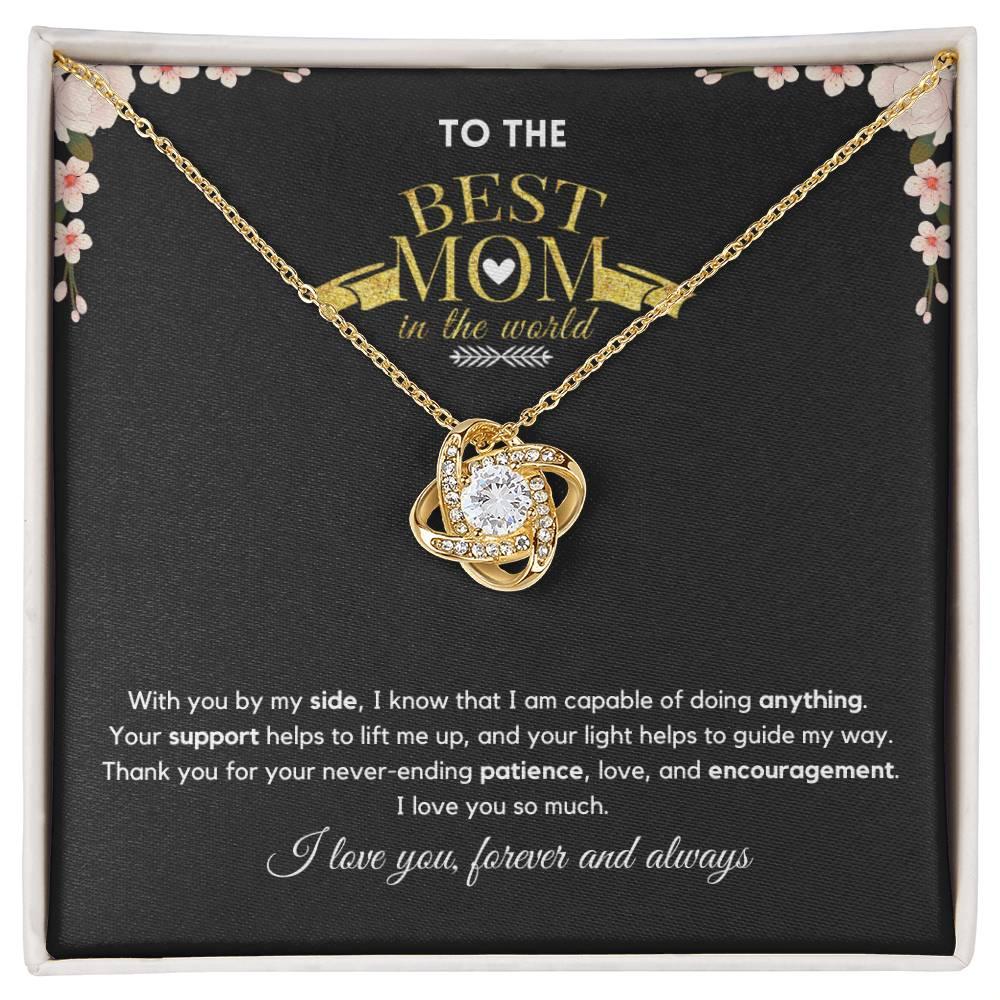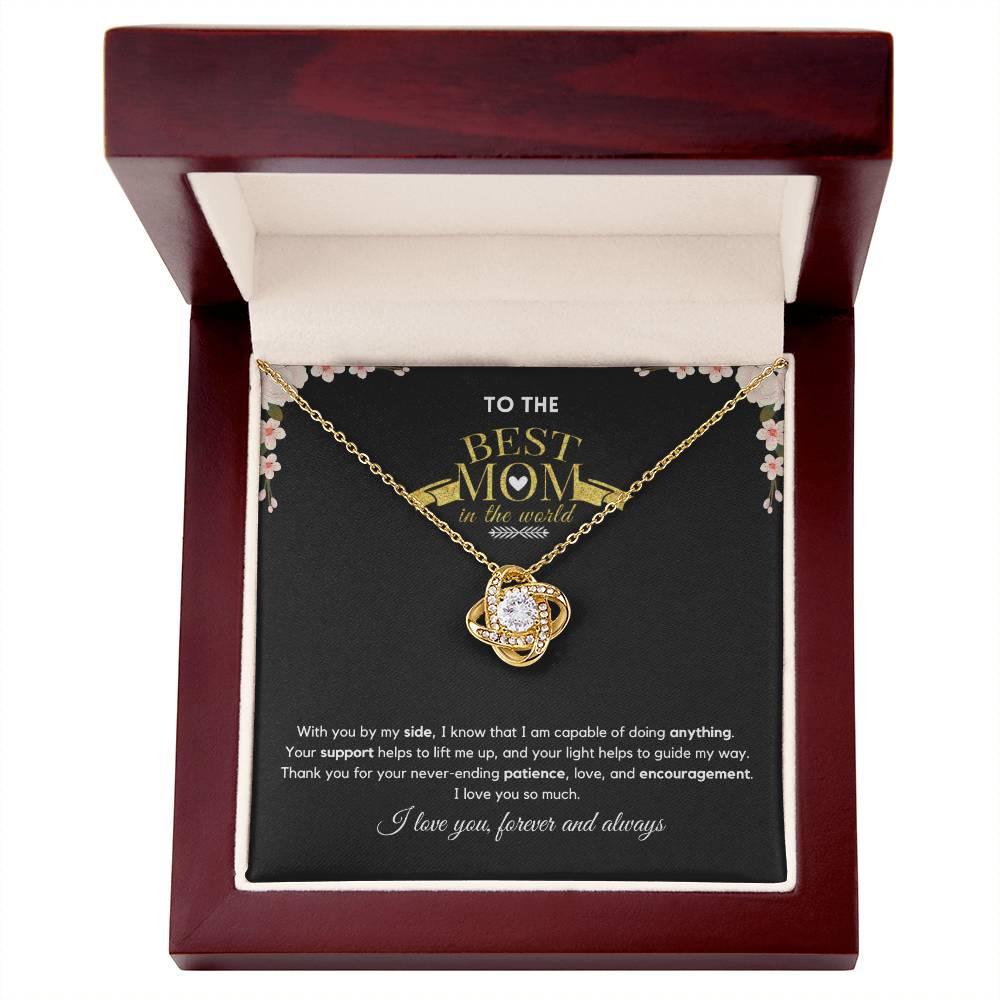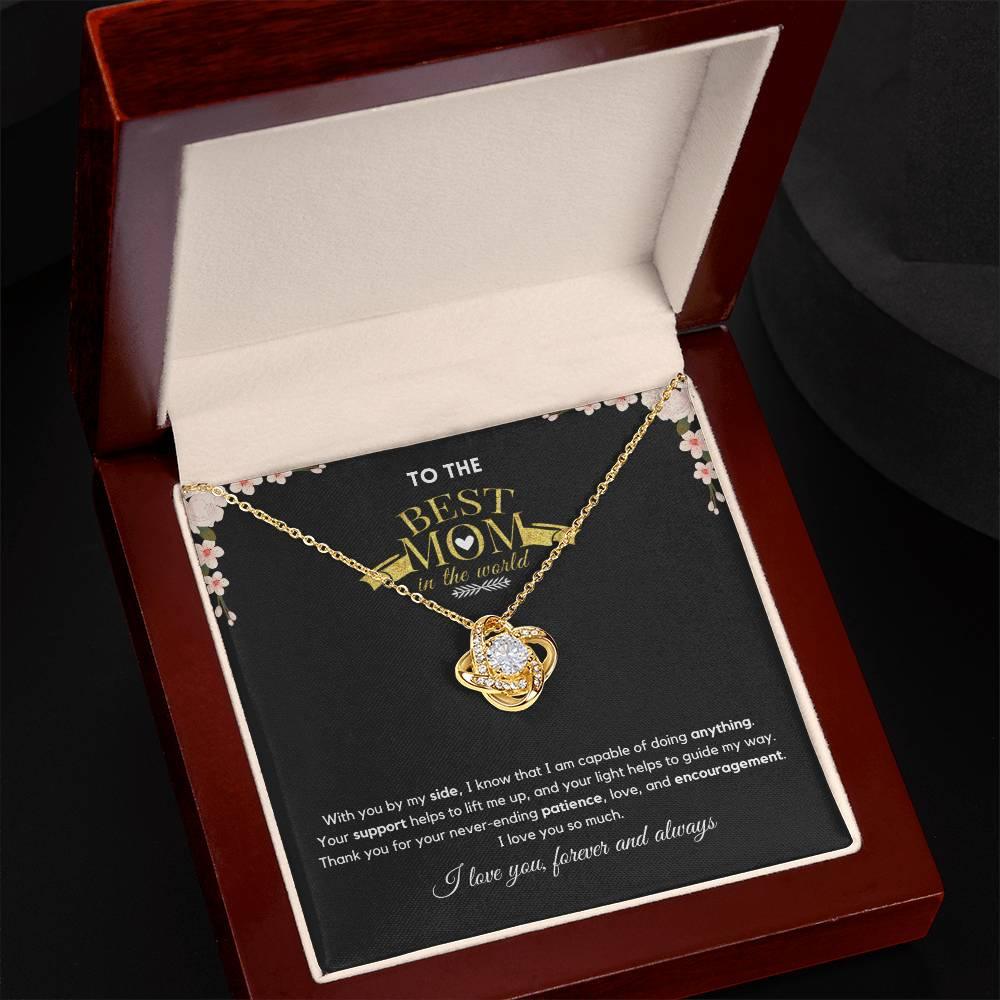 Collapsible content
MADE IN THE USA

All our products aremade with love in the USA.
100% SATISFACTION GUARANTEE

This product is backed by our100% Happiness Guarantee.

If you not 100% happy with the product you receive, let us know and we'll make it right or we'll take it back.
ONE OF A KIND HEARTFELT GIFT

Not sold in stores. Designed, made, and shipped with love in the USA.

READY TO GIVE: All our products are presentably packaged for hassle-free gifting.
FREE FAST SHIPPING

All orders ship with Love from the USA

Once shipped, delivery within:

USA: 2-5 Business Days

Canada: 3-8 Business Days

Europe: 3-12 Business Days

International: 5-14 Business Days